Attic Ladders
Attic ladders supplied and fitted within 2 hours, come with a handrail and 10 year manufacturer's warranty. Attic stairs, flooring, lighting and insulation are all installed by fully qualified tradesmen.
10 Year Warranty
All of our attic ladders come with a 10 year warranty, moulded architrave surrounds, handrail, slip resistant threads, rubber feet, operating poles, draft proof seals and insulated doors.
About Our Attic Ladders
If you are looking for a reliable installer of attic stairs in Dublin, Wicklow, Kildare or Meath, then you can look no further than Attic Ladder Solutions. Contact us today and we will arrange a convenient time to arrange a no obligation survey. 
Attic ladders supplied and fitted
No fuss, stress free, 2 hour installation
Quality workmanship with a 10 year warranty
High quality wooden and aluminium attic ladders you can rely on
Non slip steps, handrail and rubber boots
Grabrails and balustrades
Moulded architrave surround
Draft proof seal and insulated door
Free survey and quote – contact us today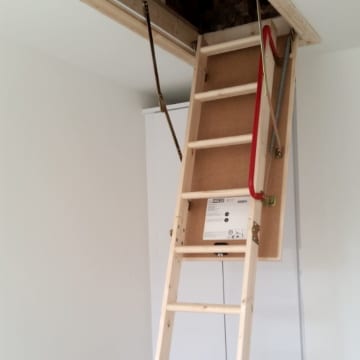 Message Us
Get In touch below. Ask Any Question or Start a Free Quote
Email
info@atticladdersolutions.ie
Location
We are based in Citywest and operate throughout Dublin, Meath, Kildare and Wicklow.
Open Hours
M-F: 8am – 8pm
Sat: 9am – 6pm
Sun: 12pm – 6pm
All Prices Exclude VAT at 13.5%